shopping_cart
Cart
(0)
arrow_drop_down
arrow_drop_up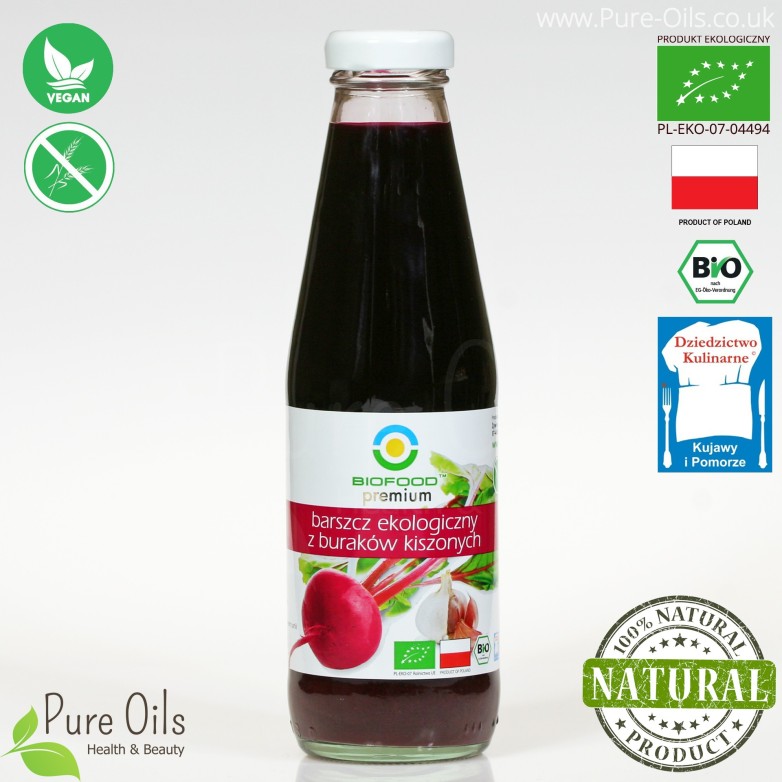  
Beetroot Soup, Lactofermented - Organic, BioFood
Beetroot soup is a 100% natural product. It comes from organic farming and has a BIO Certificate No. PL-EKO-07-04494. Perfectly supports metabolism as well as strengthens bones.
Beetroot is a valuable source of vitamins (C, B1, B2, B3, E, K1) and minerals (magnesium, silicon, manganese, iron, calcium, sodium).
Beetroot - properties and application:
it has a hematopoietic effect,
lowers blood pressure,
it has a thrombotic effect,
regulates kidneys,
supports the treatment of anemia and influenza.
Celery contains valuable vitamins B1, PP, B2 and C. In addition it is a source of minerals such as: zinc, potassium, phosphorus, calcium and iron.
Celery - properties and application:
shows strengthening properties,
shows a diuretic effect,
relieves rheumatic pains,
supports the treatment of edema,
relieves menstrual pain,
helpful in the treatment of urinary tract infections,
stimulates the work of the digestive tract,
improves appetite,
strengthens the nervous system and has a calming effect,
it has a positive effect on the heart
supports cleansing the body.
Ingredients:
juice of organic lactofermented beetroot 70% , juice of organic lactofermented celery 30% , organic herbs, organic cane sugar.
The product is naturally cloudy.
The sediment is formed by the natural ingredients.
The product is pasteurized.
Store in a cool and dry place.
After opening store at a temperature of 4°C.
Shake before use.
Some of the information is obtained from generally available sources.
Specific References
ean13

5905933486875